First came Aspen
I adopted Colton in February 2014. As my other dogs were older, Colton went everywhere with me on the farm in Maryland just like she does here. When I would walk Aspen out in the morning, Colton would often take the lead from me and help walk her out. Aspen loved Colton too and they often went nose to nose. Aspen liked sticking her tongue out at Colton :)
Then came Rocky
When I brought Rocky home fighting for his life, Colton immediately wanted to be with him. Once Rocky gained strength, Colton began helping watch him. They were always together. She would make sure he was okay. She knew to be gentle. She knew he was a lot smaller than her. It was so sweet to watch.
Next was Ripley
So just over a year later, we welcomed Ripley who had lost her mom while her mom was giving birth to her twin. So Ripley was a very healthy, spunky baby goat unlike when Rocky came home. She was still being bottle fed and living in the house like Rocky but she was also flying off the couch at a very young age. Colton was right there with Ripley practically jumping on her. They did play together and Ripley would stand tall playing with Colton. It was so fun to see their friendship.

Then she met Bucket
Bucket was an instant friendship and Colton loved the fact that Bucket was exactly her size. They immediately snuggled together, ran together, and later played chase and so much more. Their friendship endured Bucket gettting big and they would continue to play. They don't play as often now, I believe because Colton is a little intimaded with Bucket also having Bailey, Miles and Journey around him. It is a lot of size compared to her and I think she feels their presence. But when we catch all the boys laying down, Colton and I will go join them and she will lay right down with them.
Bailey came next
Bailey and Colton had a little different start because Bailey was 4 weeks old when I rescued him and he had ringworm which would have been contagious to Colton. So these two did not get to meet until Bailey was almost done bottle feeding. But neverthesless, they certainly hung out together and occassionally romped around the field together.
Then there was Hopie
Once we moved to Virginia and started Little Buckets, Hopie was the first rescue Colton met. Hopie arrived very, very sick so initially they had to be separated but once Hopie fought to stand and we began her in a cart, Colton walked up and down the barn aisle with her. I think it motivated Hopie as she liked to walk as fast as her. As Hopie learned to walk and run again, I spent many hours with her and so did Colton.
Next came Miles and Journey
With the friendship Colton had with Bucket, I was so interested in seeing how Miles and Journey would take to Colton. Colton definitely hung out with Miles and Journey in their field and she laid with the boys but they didn't run and play like Bucket and Colton did. I believe it was Bucket was rescued by himself where Miles and Journey had each other.
Pete and Dee followed
Pete and Dee were rescued weeks after Miles and Journey so I had to create a separate quarantine area for them. Colton and I spent hours with them and they in turn became friends. Colton looked after them and loved giving them kisses.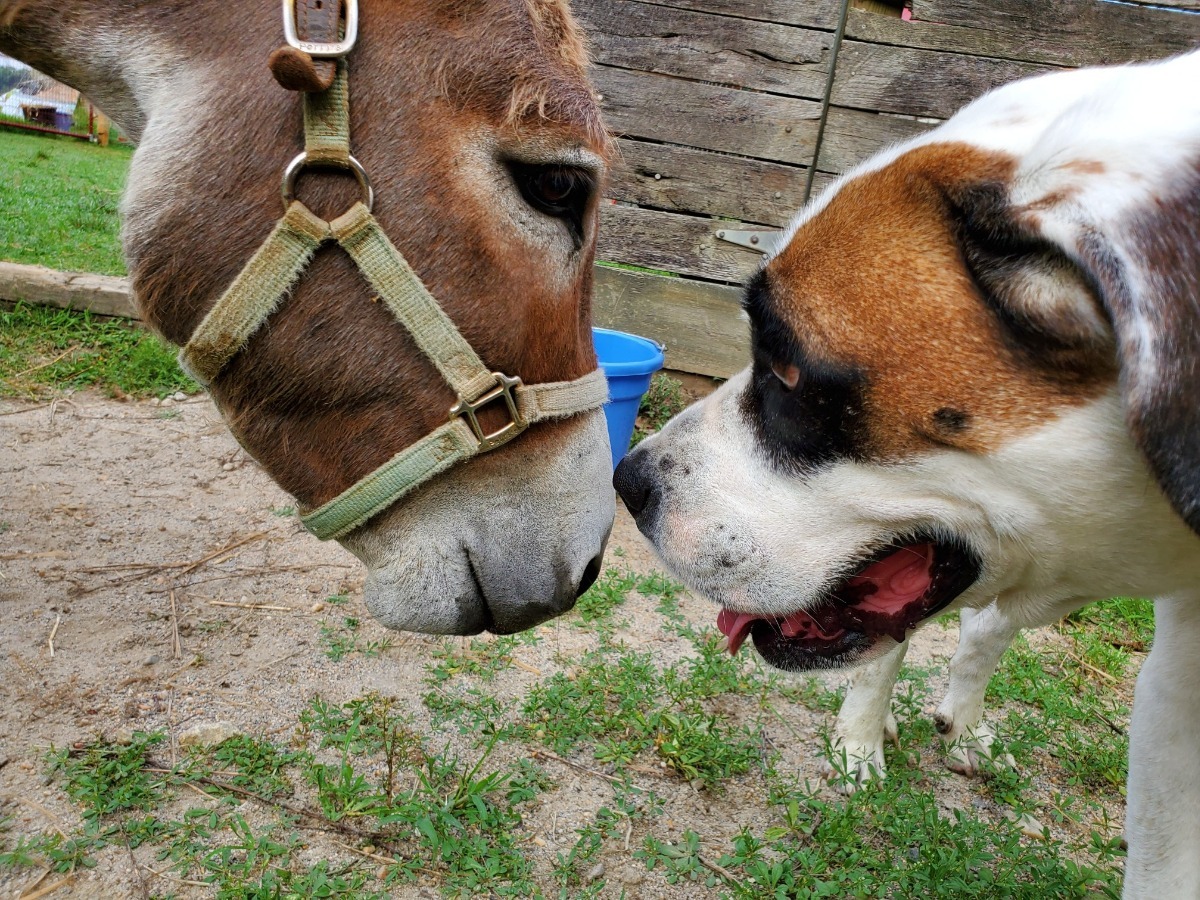 And Olive too
Olive arrived very shy but when Colton was around, Olive was a different donkey. She was more comfortable and relaxed and she actually looked to Colton to lead. We all three spent many hours together and Olive and Colton were about kisses.
Of course there was Willow
Since Olive had spent many hours with Colton, once Willow was born, Olive allowed Colton to be around Willow at just a few days old. Willow was facinated with Colton and the two immediately hit it off. As I spent hours with Willow, so did Colton and there were certainly lots of kisses.
And our babies Tater & Tot
Tater & Tot arrived at a week old and as they had trouble keeping their balance to walk, Colton was a little unsure when Tater & Tot fell But not long, Colton knew what to expect and she was right there, sometimes letting them lean on her and definitely giving them kisses of encouragement. But most of all, she laid with them always making sure they were okay.
And a lot more in between
These were the big relationships but so many cute moments in between. Besides being the animals friends, she is my best friend. As she watches over the animals, she always is on guard for me.
The amount of love so many people have for Colton is enormous. She is so special. I thank you for loving her too.
Colton with Tater and Tot